Available land is continually being snatched up near the site of the Taiwan Semiconductor Manufacturing Co.­in an area that looks to take on an economic spark for north Phoenix.
Earlier this month, Mattamy Homes announced it bought a 79-acre parcel of "important land" for $6.65 million — which will bring 178 new homes to the area.
According to a press release, the new development, called Tierra Vistoso, will be on the northwest corner of Cotton and Dale lanes in Surprise — a short distance from the new TSMC fab.
TSMC will bring an advanced semiconductor fab to a roughly 1,050-acre campus north of Loop 303 and west of Interstate 17. Construction on the first phase of the first building at the Sonoran Oasis Science and Technology Park is ongoing and should be completed by July 2022.
The second phase will be outfitting and conditioning the building to manufacture chips.
That process could take another full year as equipment needs to be installed and conditioned and clean air needs to be pumped into the building.
Mattamy's new development will include single-family homes, with single and two-story options, a press release said.
The community will offer open space, and neighborhood amenities will include small parks, barbecue grills, play structures for children and connected walking trails, the press release said.
The purchase of the property was made official Oct. 4. Tierra Vistoso is expected to open for sale in early 2022.
"We're very excited about the possibilities that our new community in Surprise is going to offer homeowners in the Valley, with brand-new floorplans combined with a stunning natural setting, tucked away from the hustle and congestion of other Valley locations," said Don Barrineau, president of Mattamy's Phoenix Division, in a press release.
Another homebuilder, Lennar Homes, also announced it would build more than 200 homes along Interstate 17, south of the Loop 303.
The community, called Middle Vistas, will be on the west side of I-17, just north of the Central Arizona Project canal and south of the Dixileta Road alignment. There are 228 homes planned for the area.
<!–//<![CDATA[
zoneId = '12';
var m3_u = (location.protocol=='https:'?'https://yourvalleybanners.creativecirclemedia.com/www/delivery/ajs.php':'http://yourvalleybanners.creativecirclemedia.com/www/delivery/ajs.php');
var m3_r = Math.floor(Math.random()*99999999999);
if (!document.MAX_used) document.MAX_used = ',';
document.write ("");
//]]>–>

According to a press release, Lennar called the sites "one of the top" job creation areas in the entire Valley.
"Lennar had identified the site and was working with the city of Phoenix, long before TSMC announced plans to build a plant nearby," the press release said.
Lennar will build single-story homes between 1,700 and 2,600 square feet and be priced in the $400,000$500,000 range, according to the release "The site backs up to what will become a pristine mountain preserve," the press release said. "Of the 190-acre parcel, Lennar is donating 120 acres to the city of Phoenix for the preserve. The remaining 70 acres will be used for homes."
Jeff Gunderson, senior vice president of land acquisition and development for Lennar, said the property is coveted and company officials are "thrilled" to have another community near the I-17 major transportation corridor.
"Our customers are already reaching out to us and excited about this new neighborhood," Gunderson said in a press release. "Available land near the I-17 is difficult to come by and we're thrilled to have another community right near this major transportation corridor."
Another development, called Copper Leaf at Sonoran Foothills, is planned to open during first-quarter 2022 on Dove Valley Road and Rancho Paloma Drive.
"These two neighborhoods are unique in that most land in the area is either owned by the county, state or federal government which doesn't leave a lot of opportunities for homebuilders or homebuyers," said a press release. "The recent closing on the Middle Vistas property was the only private land available west of I-17, north of the CAP canal all the way to Lake Pleasant Parkway."
The area near and around the TSMC fab is expected to erupt with new business and homes, alike.
Intel's presence in Chandler and the fact the semiconductor and electronics industry has had a place in the desert since Motorola first came to Phoenix in 1949 should be among the benefits listed off when touting the area.
Phoenix is home to facilities from Intel Corp., ON Semiconductor, NXP Semiconductors and Microchip Technology Inc. among others in the industry.
Local semiconductor industry leaders are looking to build off of the momentum of TSMC.
In September, leaders announced a new national partnership intended on making the U.S. more competitive in luring foreign manufacturers to build in America.
The partnership, called the National Semiconductor Economic Roadmap, is aimed at ramping up semiconductor competitiveness through "a focus on the workforce, supply chain and infrastructure to support semiconductor research and development, design, manufacturing, and end-applications.
Journalism has fascinated Brent Ruffner since junior high school.
Since 2001, his stories have been published in newspapers from the Albuquerque to the Arizona and he has always had a knack for making sure his facts are right and his words are to the point.
Growing up, Brent watched as sports reporters covered his beloved Phoenix Suns, a team he followed since Charles Barkley first arrived in Phoenix via trade in 1992. Sports reporting was a dream back then.
But after gaining some writing experience, Brent found a love for news instead of covering different types of sports. In 2008, he moved to New Mexico and covered crime, schools and city beats all while holding elected officials accountable.
He covered stories that ranged from a DEA drug bust gone bad to an award-winning story on school lunches.
In Arizona, Brent was a freelance writer who covered everything from the importance of citrus in the state to Esteban owning a store in downtown Prescott.
Brent is a 2007 graduate of the Walter Cronkite School of Journalism and Mass Communication at Arizona State University.
Other items that may interest you
Most popular stories in Daily Independent
DON'T MISS A BEAT: Simply submit your e-mail address below, click on the opt-in email link and watch your inbox for news from the Daily Independent at YourValley.net. Thank you for reading!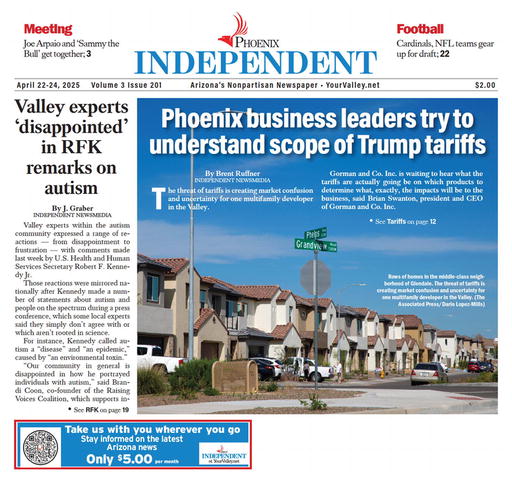 Read the latest print edition here.
View this issue
<!– Browse other issues –> Browse other issues
Statistics after 8 games
Atlanta Falcons
Miami Dolphins
Houston Texans
Denver Broncos
Alker caps dream summer by winning on PGA Tour Champions


YourValley.net
623-972-6101
17220 N Boswell Blvd
Suite 101
Sun City AZ 85373
Email: azdelivery@iniusa.org